Do you use the words "furnace" and "boiler" interchangeably? Both terms describe home heating systems, but a furnace and a boiler are not the same thing. Learn about the difference between these two systems so you can decide which is best for your home and your comfort needs.
How Do Furnaces Work?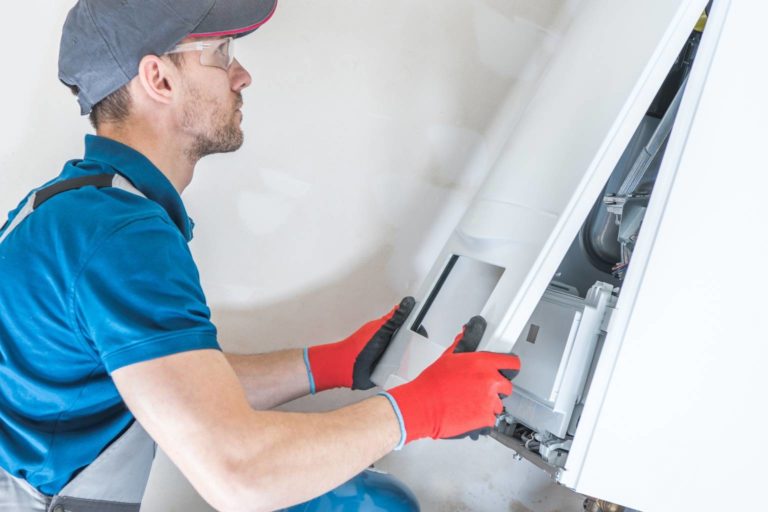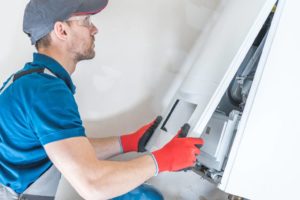 A furnace uses air to heat your home. You may hear it referred to as an "air-forced heating system." Here's how it works:
The thermostat detects the falling temperature and calls for heat.
In gas furnaces, the pilot light or electronic ignition lights the natural gas or propane in the burner. In electric furnaces, a heating element warms up.
Incoming air passes through a heat exchanger and picks up heat from the burner or heating element.
The blower forces heated air into the ductwork, where it is distributed throughout the house.
Return registers near the floor draw cool air back into the furnace, and the process repeats.
How Do Boilers Work?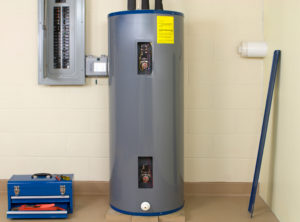 A boiler uses hot water to heat your home. Instead of ductwork, the delivery system may include cast iron radiators, ceramic radiators, a baseboard system, or radiant floor heating. Here's how it works:
A heat source—such as natural gas, oil, or electricity—heats water in a tank.
Depending on the type of boiler, either steam or hot water moves through the pipes and circulates throughout the home's radiant heating system.
Hot gases are vented outside to maintain pressure in the boiler system.
Cold water at the end of the radiant system's loop circulates back into the boiler to be reheated, and the process begins again.
Is a Boiler or a Furnace Better for Your Home?
Compare the features and benefits of boilers versus furnaces to help you decide how you want to heat your home.
Comfort: Furnaces distribute air via a blower, which leads to cold drafts every time the unit comes on. In contrast, a boiler's convection or radiant heat results in comfortable, consistent warmth from the ground up.
Humidity: Hot air from a furnace is dry, sapping moisture from your skin. You can combat this by running a humidifier, but that's another expense and maintenance requirement on your part. Boilers deliver naturally moist air as a result of being heated by water.
Air quality: Unlike furnaces, boilers are ideal for homes with allergy sufferers because they don't blow dust and contaminants around.
Noise: When some furnaces kick on, it sounds like a jet plane taking off. On the other hand, a boiler provides silent heat for your home.
Maintenance: Furnace owners must use a filter to catch airborne debris. This filter should be replaced every one to three months. It may be necessary to service your boiler once a year, but minimal maintenance is required between visits from a technician.
Efficiency: Water conducts heat much more effectively than air. This means that, in most homes, heating with a boiler is more efficient than a forced-air furnace.
Cost: The investment required at installation depends on your home's existing features. If you don't already have ductwork, adding it for a furnace could be cost-prohibitive.
Contact Len The Plumber for Boiler Service in DC, DE, MD, PA & VA
Whether you're interested in replacing your furnace with a hydronic heating system or your boiler's on the fritz, Len The Plumber has you covered. We are a one-stop-shop for first-class boiler services throughout Baltimore, Northern Virginia, Philadelphia, the Delaware Valley, and the Washington, D.C. area.
Call (800) 950-4619(800) 950-4619 or contact Len The Plumber online to schedule boiler services today.
In addition to providing top-quality boiler services throughout the Mid-Atlantic region, we also proudly offer:
Money-saving deals and flexible financing options, with approved credit
Same day and emergency service at no extra cost
Fully licensed, insured, background-checked plumbers who will prioritize your needs while always treating you and your home with respect
The highest-quality workmanship and solutions!
Check out our exceptional reviews to see why our customers love us and why we're a leading plumbing company throughout Baltimore, Northern Virginia, Philadelphia, the Delaware Valley, and Washington, D.C. And whenever you need plumbing or boiler services, don't hesitate to contact us!