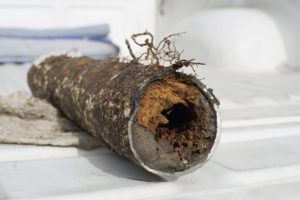 Sewer line clogs cause serious headaches and unexpected plumbing problems for homeowners. Since these clogs get worse the longer they aren't cleared, it's essential to know the signs of a main line sewer clog so you know when to call a trusted plumber for help.
If you have a sewer line clog or any sewer line emergency, call Len The Plumber at 800-950-4619 for emergency service at no extra charge!
We proudly offer FREE estimates and 2-hour response times for sewer line emergencies.
6 Signs of Sewer Line Clogs
Multiple clogs in your plumbing fixtures: An occasional toilet or drain clog will happen from time to time. When multiple drains and other plumbing fixtures are all clogged at the same time, you could have a main line sewer clog.
Strange noises coming from your plumbing fixtures: Gurgling sounds coming from your drains and toilet are another common warning sign of a sewer line clog. These unusual sounds are caused by the movement of wastewater past the clog. As this happens, air pockets around the clog will release bubbles that float to the surface of the water in your plumbing fixtures. This gurgling sound caused by air bubbles will typically be more noticeable as you use more water.
Unusual responses when using your plumbing fixtures: This can include odd sounds, foul odors, and backups in one (or more) plumbing fixture(s) when you're using others. For instance, turning on your washing machine or flushing your toilet may cause backups in tubs, showers, and drains. This happens because wastewater has no place to go, so it ends up being forced back into your drain lines.
Foul odors coming from your drains: If you notice sewage-like smells coming from your drains, your wastewater is likely not draining properly due to a clog.
Backups in the lowest drains in your home: Clogs will be ground zero for backups. From there, backups will work their way up, impacting the lowest drains in homes first. If you start noticing problems with the lowest drains in your home, be on the lookout for these common signs of sewage backups: standing water, sewage and foul odors coming from drains, and mold problems.
Drainage in the sewer cleanout: The sewer cleanout pipe, which is usually located outside or in basements, directly connects to your main sewer line. It provides access to the line to unclog it or inspect it further. Whenever sewage is coming out of a cleanout pipe, you have a main line sewer clog (or other sewer line problems).
These red flags can mean there's a clog in your sewer line or the city sewer line. The only way to find out precisely where the problem lies—and get the repair you need to restore your sewer and plumbing system—is to contact an expert plumber at Len The Plumber.
Call 800-950-4619 for emergency sewer line service at no extra charge. We offer FREE estimates and 2-hour response times for sewer line emergencies.
Why Does My Sewer Line Keep Backing Up?
A sewer line clog can be a major headache, but frequent backups can be a downright nightmare! If you find yourself dealing with continuous backups after you get your sewer line unclogged, it's time for a camera inspection to determine if you're dealing with:
A cracked sewer line
A collapsed or broken sewer line
In these cases, you'll need to replace the damaged portion of your sewer line or the entire line. At Len The Plumber, we offer two options for sewer line repair and replacement, including:
The best solution for your sewer line problems will depend on the:
Nature and location of the damage to your sewer line
Overall condition and age of your sewer line
Get Emergency Sewer Line Service at No Extra Cost: Contact Len The Plumber
The experienced plumbers at Len The Plumber are ready to provide fast, efficient, high-quality service to unclog, repair, and restore your sewer line. We're the team you can always count on!
Call 800-950-4619 or contact Len The Plumber online now for sewer line service.
With Len The Plumber, you can always count on:
FREE estimates and upfront pricing
Fast response times for drain and sewer emergencies
Zero extra fees for after-hours or emergency service
First-class service and the highest-quality solutions!
For more than 20 years, Len The Plumber has been offering exceptional plumbing services throughout Maryland, Northern Virginia, Pennsylvania, Delaware, and Washington, D.C. That's just one reason why our customers love us! But don't take our word for it—contact us to experience our excellence for yourself!