You know where to wash dishes, bathe, and brush your teeth — but do you know where the plumbing is located that connects to these fixtures? Being able to identify where the plumbing is in your home can help you keep an eye out for potential leaks (and the mold and water damage that can develop from them).
Kitchen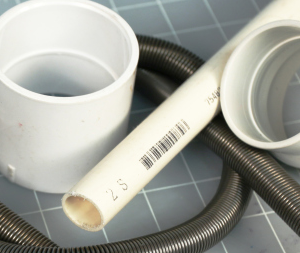 The majority of plumbing in the kitchen is located in the cabinets underneath the kitchen sink. This includes the kitchen sink supply and waste pipes, a second set of supply and waste pipes that connect from the sink to the dishwasher, and a cold water supply line that leads to the ice maker in the refrigerator. It's important to check underneath the sink for leaks as most of the plumbing will connect at this central point.
Bathrooms
For the most part, plumbing in bathrooms is not always visible as it is usually located under fixtures and behind walls. Like the kitchen, the sink's supply and waste pipes will be located underneath a cabinet or vanity. Toilets sit atop of their waste drain and are connected to a water supply line that is located on the wall behind the fixture. Showers and bathtubs have drainage pipes underneath them and have plumbing running from the fixture to the wall where it is hidden out of sight.
Basement
Basements are known for housing water pipes that run throughout the room — usually along the ceiling and down walls that connect to your plumbing fixtures. Whether the basement is finished or unfinished, water heaters and laundry fixtures are usually located here. For those with a finished basement the plumbing will still be along the ceiling and walls, but it will be covered by the previously installed ceiling and drywall.
Knowing where the plumbing is located inside of your home can help you identify the areas you need to inspect for leaks. Since a good majority of a home's plumbing is hidden out of sight, leaking pipe repair is something that should be left to the pros. When your home needs plumbing repair or replacement, contact Len The Plumber. To learn more or to schedule an appointment, give us a call at (800) 950-4619.