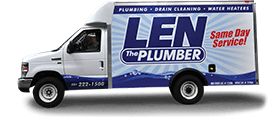 Discolored patches of drywall on the ceilings or walls of your home are more than just unsightly—they can also be a warning sign that you have a hidden leak. Don't ignore this problem, or you could be left with significant water damage and high repair bills!
If you have a water leak in your wall or ceiling, call Len The Plumber at (800) 950-4619(800) 950-4619 or contact us online now. We offer first-class leak detection and repair services throughout Baltimore, Philadelphia, Northern Virginia, Delaware, and the Washington, D.C. area.
Plus, we proudly offer:
Signs You Have a Leak Behind Your Walls or Ceilings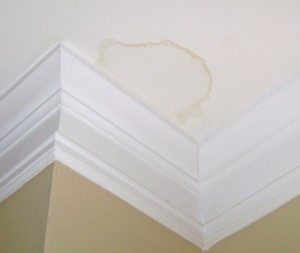 A good portion of your home's plumbing system is hidden from sight. So, if a leak develops, it may go unnoticed for a long time. Keep an eye out for these signs of wall and ceiling leaks so you can repair them promptly:
Discolored or bubbling drywall: This is often what homeowners notice first. If the drywall looks stained or has started to bulge in places, call a plumber to check for a leak behind the wall or ceiling.
Mold problems: Mold spores settle and start forming colonies in warm, damp places. A leak behind the wall could allow mold growth to remain unseen, but a persistent musty odor can be an unmistakable sign you've got a leak.
Warm spots on the walls: Leaking hot water pipes can result in hot spots behind the walls. Check for this phenomenon if you suspect you've got a wall leak.
The sound of running water: Do you ever hear a trickling or dripping sound coming from the walls? This is a sure sign of a wall or ceiling leak.
Higher water bills: Always check your water bills before paying them. If they're going up for no apparent reason, it's usually a good idea to call a plumber for leak detection service.
Unexplained water usage: Here's an easy way to check for water leaks—go outside and read your water meter. Then, don't run any water for at least two hours. Return to the meter and take a second reading. If the number has changed, there's a good chance you have a leak somewhere in your home.
Notice any of these warning signs of water leaks in your home? If so, call  (800) 950-4619(800) 950-4619 or contact Len The Plumber online to schedule leak detection and leak repair service now.
Common Causes of Wall & Ceiling Leaks
Several plumbing issues can cause water leaks in your home's walls and ceilings. Some include:
Leaky pipe fittings or plumbing connections: A shower or sink pipe could leak every time you turn on the water.
Leaky fixtures or appliances: A leaking toilet base or dishwasher hose could allow water to drip and soak into the floor, showing up as a ceiling leak in the room below.
Frozen pipes: If not thawed promptly, frozen pipes can burst, sometimes resulting in severe flooding.
Roof leaks: A wet ceiling on the upper floor of your home most likely indicates leaky shingles.
At Len The Plumber, we can address these—or any other—issues that are causing leaks.
For expert help determining and fixing the cause of your home's water leaks, simply contact Len The Plumber now.
What to Expect During Leak Detection & Repair Service
If you have a water leak in your ceiling or wall, the source can be tricky to pinpoint. After all, water leaking in one spot can travel down the length of the pipe and drip onto the ceiling in a completely different area. That's why leak detection is so important.
In general, here's how we pinpoint the location of a water leak. We will:
Turn on plumbing fixtures and test them for leaks.
Use non-invasive procedures and state-of-the-art technology to detect leaks with minimal disruption to your home.
Devise the best methods for repairing the leak, depending on the location and cause.
Clean up after ourselves, once the leak repair service is finished, leaving you with a clean, leak-free home!
Schedule Wall & Ceiling Leak Repair in MD, DC, VA, PA & DE
Whether leaks require a routine fix, home re-piping, or other major repair work, you can always count on Len The Plumber to get the job done efficiently and correctly the first time! We provide fast, high-quality service to restore home plumbing systems, and we're committed to delivering top-notch service and the highest-quality solutions with every call.
Call (800) 950-4619(800) 950-4619 or contact Len The Plumber online to schedule leak detection and repair service in Baltimore, Philadelphia, Northern Virginia, Delaware, or the Washington, D.C. area.
We also invite you to check out our glowing reviews, as well as our guarantees and our latest offers, to see why we're a leading plumbing company throughout the Mid-Atlantic region.