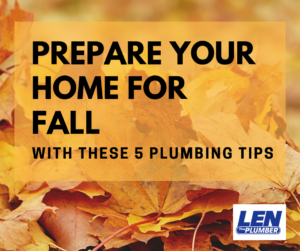 Fall is here and it is time to start thinking about taking care of your plumbing before heading into the winter months.  Many of us are still drying out from our recent rains, but it is never too early to prepare your plumbing for the changing seasons.
It's officially time to retire the garden hoses and prepare your home for the cooler air with these fall plumbing tips.
1. Remove, Drain and Store Garden Hoses
We want your garden hose to last another year, so it's important that you properly stow it away. When the hose has been disconnected, drain the water and place it in an area of your home that will not reach freezing temperatures.  Water that's left over inside the hose can freeze and expand causing the hose to break!
2. Turn Off Your Hose Bibb
One of the most important tasks that you'll need to do this season is to properly turn off your hose bibb and inside water supply line. Follow these step-by-step instructions to complete this.  If you noticed that your hose bibb was leaking this summer, we advise that you invest in a frost-proof hose bibb before the first frost occurs.  If a hose bibb isn't properly turned off, water can freeze in the supply line, which can cause pipes to burst.  To avoid any issues, give us a call today to complete any hose bibb installation or repair!
3. Check Your Sewer System
Believe it or not, the fall, winter and spring months can overwork your sewer system. If you have had any issues in the past or would like to have preventative maintenance completed, give us a call to schedule a sewer line inspection.


4. Complete Water Heater Maintenance
Annual maintenance is crucial to extend the life of your water heater. While most water heaters will last anywhere from eight to 12 years, water heater flushes tend to increase water efficiency and saves money on your future utility bills.  If you want to increase water efficiency and save some money on your utility bill this season, schedule a water heater maintenance service with us!
5. Inspect Your Sump Pump
With hurricanes season upon us until November 30th, and our recent wet weather, ensure your sump pump is in working order with these tips.
We're here to make sure your plumbing system is prepared for the temperatures ahead!  No job is too big or too small for our expert technicians.  Give us a call today or schedule an appointment online to take care of those pesky plumbing issues.  Not available for a weekday appointment?  No problem!  We're here for you 7 Days A Week, and remember there's never an extra charge for evening, weekend, or holiday appointments.