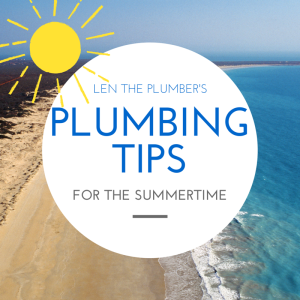 Can you believe summer has officially started?  Those cold winter days are long gone (for the time being at least), so it's time to soak up the sun and have some outdoor fun!   While you might think your air conditioning unit works the hardest during the hot days, think again.  Your home's plumbing system works just as hard and doesn't get a break all year long!
Preventative maintenance is key when it comes to plumbing, so we've gathered some important summer plumbing tips for you to consider through the next few months:
Outdoor Plumbing Tips
When you're outside cutting the grass or tending to your garden, look out for soggy patches in your yard. If it hasn't rained in a few days and you find a wet spot in your yard, you could have a water line or sewer line issue.
Sump Pump Tips
We're officially in hurricane season! While the NOAA predicted a below-normal season, we still need to be prepared for heavy rains.
Follow these tips every few months to ensure your sump pump is in good working order.
Make sure the sump pump discharge line is clear of debris, leaves, or sticks, so water can exit your home easily.
Consider installing a backup system . Since sump pumps are power operated, we encourage our customers to install a battery backup system or water-powered backup system.  If the power goes out during a heavy rainstorm, your sump pump will continue to work if a backup system is installed!
Toilet Plumbing Tips
In the summertime, many people host barbeques and have gatherings with family and friends. Make sure your guest know important rules in the bathroom to avoid plumbing disasters!  For reference, check out "What You Can And Cannot Flush Down The Toilet" to know what is actually "flushable".  The last thing you will want to deal with is a clogged toilet!
Hose Bibb Tips
Planning to wash your car outside this weekend or setting up a Slip 'N Slide for the kids? You'll need your hose to work properly!  Make sure you follow these hose bibb tips.
Water Heater Tips
Did you know that the average life of a water heater is roughly eight to 12 years? Preventative measures are important when it comes to your water heater.  Check out this recent blog to read about the importance of water heater maintenance.
If you're heading out for your beach vacation, be sure to visually inspect your water heater to make sure there are no visible signs of leaks or corrosion. The last thing we want our customer's to do is come home to a flood in their basement!
If you have overnight guests staying with you, consider spacing out showers 15 minutes apart. This will give your water heater time to replenish the water supply.
We hope that all of our customers have a fun-filled and safe summer this year.  Always remember that you can rely on our expert plumbers to take care of any plumbing issue 7 Days A Week!  Give us a call today or schedule an appointment online and we'll be there to provide you with Same Day Service.