Research shows that homeowners, depending on the age of their home, will call a plumber once every three years! To some this may seem like a lot,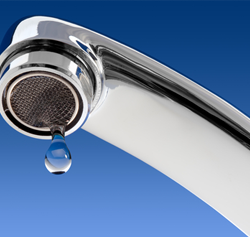 but to others they might get a visit from a plumber every year.
There are many different types of plumbing problems, but we're always asked "is this a common problem?" Though we've seen a wide variety of plumbing problems from big to small, we generated a list of what our technicians most commonly see in the homes they service.
1. Dripping Faucets
Let's face it, we've all had a dripping faucet in our home and have probably ignored it for a while! That dripping faucet not only wastes water, it wastes money on your water bill. Find out how much that drip is costing you by using our drip calculator.
2. Leaky Pipes
While we see a lot of leaking pipes during the cold winter months, it's also very common year-round! Most pipes will begin to leak near the joints, so keep an eye out for wet spots on the ground or ceiling. Water damage to your home can be quite costly, so leaky pipes are a necessity to fix right away.
3. Running Toilets
Did you know that a running toilet can waste up to 200 gallons per day? That's a lot of water waste! Check out this blog to understand why this internal water leak can be costly to your home.
4. Low Water Pressure
A lot of older homes will experience low water pressure, but you may be asking why? It could be time for a new showerhead or you could have a hidden leak in your home. However, those are just a few of the many reasons for low water pressure. To read more, click here.
5. Leaking Hose Bibb
A leaking hose bibb is very common in the spring and summer. After a long, cold winter many hose bibbs that aren't protected can crack and begin to leak. We advise our customers invest in a frost-proof hose bibb, which can reduce the chances of having future leaks.
6. Slow Or Clogged Drains
Our expert technicians warn customers to stay away from any type of over-the-counter drain cleaner! Instead, give us a call to clear the slow or clogged drain. In the meantime, follow these maintenance tips to keep your drains moving smoothly.
7. Sump Pump Failure
A prolonged period of heavy rain can cause your sump pump to fail.  Protect your home and belongings with these sump pump tips.
8. Water Heater
You wake up in the morning and step into the shower to feel cold water on your body — trust us, we know it's the worst feeling! The average life of a water heater can be anywhere from eight to 12 years depending on yearly maintenance.
No matter if your plumbing problem is common or not, our expert technicians can handle anything!
To take care of your leaky faucet, clogged drain, or any other plumbing issue just give us a call or schedule an appointment online. We're always here to provide you with Same Day Service, 7 Days A Week!