A single clogged drain is a pain, but it is usually fairly easy to fix. However, if you find all of the drains in your home are backing up at once,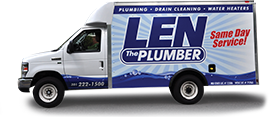 you may have a sewer drain clog in your main sewer line! Sewer lines can get clogged up by any number of things – from tree root infiltration to grease lining your pipes.  Don't let a sewer drain clog get you down – call Len The Plumber today!
Our sewer drain clog experts service Baltimore County, Howard County, Montgomery County, Prince George's County, Anne Arundel County, Harford County, Carroll County, and Cecil County.
Need Help Fast?
We offer upfront estimates and a 2-hour response time on all main drain and sewer line emergencies! Call us now at (800) 950-4619(800) 950-4619.
Learn more about our trenchless sewer repair.
This process saves you the hassle of having your yard dug up to replace a sewer line. See how this process works.
At Len The Plumber, we can handle sewer drain clogs of all sizes – from the early stages of root infiltration to advanced sewer pipe clogs that require open trench sewer repairs. We can even perform trench-less sewer repair for sewer drain clogs located in hard to reach places. Simply put, if you need a clogged sewer pipe repaired and you live in the Baltimore, MD area, you only need to make one call – to Len The Plumber!
If you need clogged sewer repair, don't wait! Fill out the form to the right or pick up the phone and call us today. One of our friendly plumbing technicians will have your clogged sewer pipes repaired in no time. Drop us a line today!
Our Sewer Repair Services
At Len The Plumber, we've seen it all when it comes to clogged sewer pipes. If your home's drains are all clogging at the same time, or if your utility sink fills up when you do laundry, you may have a backup in your main sewer line. That's why we offer fast, full service sewer line repair throughout the greater Baltimore, Maryland area, 7 days a week. Our clogged sewer repair work includes:
Video pipe inspection to locate the source and extent of the damage
Early stage sewer pipe repair – if you have roots that are just starting to invade your pipes, our expert plumbing technicians can remove them and keep them out with periodic application of tree root poison.
Advanced stage sewer pipe repair – if your clogged sewer lines are damaged enough, we can perform open trench sewer repair and install a new, durable PVC pipe.
If you have a clogged or backed up sewer line, call the friendly Baltimore plumbers at Len The Plumber for sewer line repair right away!