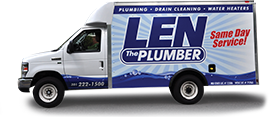 Sewer line failures and malfunctions are some of the messiest, most damaging plumbing problems that a homeowner can encounter. When you discover sewer line damage within your system, it's critical that you act quickly to find a plumbing professional who can repair the problem in no time. Len The Plumber offers Baltimore families the 24/7 emergency sewer line service solutions they need to restore their systems back to working condition when it matters most.
If you're seeking sewer line services near Baltimore, Len The Plumber has the plumbing professionals available to provide the long-lasting solutions you need. Contact us at (800) 950-4619(800) 950-4619 to schedule sewer services today!
Signs Your Sewer Line Needs Repair or Replacement
If you haven't tended to the needs of your home's sewer line in a long time, chances are you'll be left with a broken or clogged sewer line. There are many signs that homeowners can watch out for that will indicate an issue exists within their sewer system, including:
Sewage backups and blockages
Foul, sewage smells around your property
Slow drainage across all drains in the home
Unusually lush or soggy areas of your lawn
Septic waste pooling in the yard
Homeowners are responsible for resolving any problems they discover within the sewer line that leads from their home to the main sewer line under the street. The moment you detect a sewer line problem at play within your home, don't hesitate to contact the plumbing professionals at Len The Plumber.
Call (800) 950-4619(800) 950-4619 to schedule emergency sewer line repair or replacement for your Baltimore home today.
24-Hour Sewer Line Repair Services in Baltimore, MD
At Len The Plumber, our plumbing professionals have years of industry experience helping Baltimore families resolve even the toughest sewer line repair requests. Available 24/7 with the emergency sewer line repair services you need, our team will be there to recommend the best solution for your specific situation, including:
Don't wait until it's convenient for other plumbers to take your call: Get the immediate solutions you need for your sewer line by calling (800) 950-4619(800) 950-4619 to schedule emergency sewer line repair in Baltimore.
Sewer Line Replacement Services for Baltimore Families
When your sewer line is too old and degraded to be salvaged, our team may recommend sewer line replacement as a solution. Depending on your circumstances, you may choose from the following replacement services:
Conventional sewer line replacement: This will involve excavating the old sewer line by digging up the damaged lines and installing new ones.
Trenchless sewer line replacement: When pipes are not sagging or collapsed, this faster, no-dig option will prevent the need for excavation.
Our team will carefully assess all system damage to make the best recommendation for your sewer line replacement needs.
Allow us to help restore your sewer line back to working condition by scheduling sewer line replacement services with our team today.
Choose Len The Plumber for Sewer Line Services in Baltimore
Len The Plumber proudly provides more than 60,000 Baltimore families with the long-lasting sewer line solutions they need each year. We are confident not only in our team's ability to provide you with exceptional sewer line repair and replacement service but to also offer each customer:
Upfront, honest pricing prior to each sewer line service appointment
Fast, efficient service using the most sophisticated industry tools and techniques
High-quality craftsmanship and industry-leading system solutions
Same day service available, seven days a week, with no overtime, evening, or weekend fees
When you're seeking 24/7 sewer line service in Baltimore, there's no better team for the job than Len The Plumber. Contact us at (800) 950-4619(800) 950-4619 to schedule sewer line repair or replacement today!
Schedule Emergency Sewer Services in Baltimore Today
Whether your sewer line is collapsed, clogged, cracked, or corroded, Len The Plumber has the sewer line repair and replacement professionals to tackle the challenge. With more than 100 plumbing professionals available to take your call, we are confident in our team's ability to provide you with the fast, efficient sewer line services your Baltimore home needs.
Contact Len The Plumber at (800) 950-4619(800) 950-4619 today to schedule sewer line service for your Baltimore home.