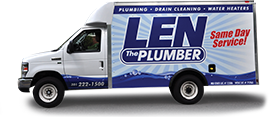 One of the most common plumbing problems that Baltimore homeowners face is clogged or slow drains. When left ignored, this small nuisance can quickly escalate into a full-fledged plumbing emergency.
If you've noticed a blockage affecting your drains, don't hesitate to schedule the professional drain cleaning services you need. Len The Plumber's expert technicians offer the fast, reliable drain cleaning services that Baltimore residents need when they need them most. Offering same-day service using state-of-the-art equipment, there's no better team available for your drain cleaning service needs.
Don't let clogged, dirty drains negatively affect your plumbing performance. Contact Len The Plumber to schedule drain cleaning service in Baltimore today!
Signs Your Home Needs Professional Drain Cleaning
When your drains need professional cleaning, they won't be shy about letting you know. Baltimore homeowners should watch for the following signs that indicate it's time to schedule drain cleaning with their plumbing expert:
Slow drainage
Foul smells coming from drains
Gurgling sounds in drains
Frequent water backup
Drain flies or other pests
Moldy, mildewy odors
Trouble flushing the toilet
If you've noticed the signs of needed drain cleaning in your home, help is on the way. Call (800) 950-4619(800) 950-4619 to schedule same day drain cleaning services in Baltimore today!
Our Professional Drain Cleaning Services in Baltimore
At Len The Plumber, our plumbing professionals have decades of industry expertise. We've seen and solved a broad range of drain blockages using the most advanced plumbing tools and techniques. Our professional drain cleaning solutions include:
Drain vent cleaning
Rain leader drain service
No matter how dirty your drains may be, our team has the skills and tools available to restore them to like-new condition in no time.
Allow us to eliminate the blockages affecting your Baltimore home's drains by scheduling drain cleaning with our team today!
Choose Len The Plumber for Baltimore-Area Drain Cleaning
For more than 25 years, our team has offered superior drain cleaning services that Baltimore families can trust. We deliver the fast, reliable plumbing solutions that residents need exactly when they need them, offering an unbeatable customer experience every step of the way. When you select our team for service, you'll always receive:
A full profile of the plumber providing drain cleaning service at your home
Local plumbing technicians for quick, convenient service around your schedule
Fully stocked service trucks equipped with everything needed to solve your drain blockage issues
Friendly, considerate service professionals who treat your home and family with kindness
If you're looking for professional drain cleaning services near Baltimore, look no further than Len The Plumber for the solutions you need. Contact us to schedule drain cleaning in your home today.
Drain Cleaning Service FAQs
How often should my main drain be cleaned?
Our plumbing professionals recommend having your main drain cleaned at least once every 18 to 22 months. Adhering to a regular drain cleaning schedule will help prevent sediment buildup and severe blockages in the future.
How do I keep my drain lines clean?
Homeowners can maintain their drain cleanliness by using a DIY pipe clearing solution in between professional cleanings. Pour 1 tablespoon of salt into your drain, followed by a quarter-cup of plain white vinegar, and let it sit. After an hour, pour a pot of boiling water down the drains to loosen up any sediment buildup. Repeat these steps a second time to get the best results.
What should I not put down a drain?
The following are just some of the items that homeowners should avoid sending down their drains:
Food scraps
Coffee grounds
Oil and grease
Paper towels
Sanitary napkins/feminine care products
Drain cleaning chemicals
Is DIY drain cleaning safe for my plumbing system?
It depends on what kind of DIY drain cleaning solution you use. Most store-bought drain cleaning chemicals are not recommended for safe drain cleaning. These chemicals can build up within your system and end up causing severe blockages. While DIY solutions such as salt, vinegar, and boiling water mixtures are great for continued maintenance, they should not replace professional drain cleaning at least once every 18 to 22 months.