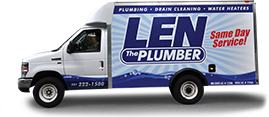 Few things are worse than discovering a flooded basement following a rainstorm. In Baltimore, basement flooding is a more common occurrence due to our proximity to the coast. Residents require a knowledgeable plumbing professional to provide the sump pump solutions they need to avoid catastrophic water damage in their homes. Len The Plumber proudly offers the comprehensive sump pump services necessary for preventing basement flooding in Baltimore homes.
Don't let standing water in your basement become commonplace. Contact Len The Plumber to schedule sump pump services today!
What Is a Sump Pump?
A sump pump is an electric pump that's placed in the lowest point of your home, usually in a pit in the basement. During rainstorms, water that would otherwise flood your basement is instead redirected to the pit with the pump. When water levels reach a certain point, the float valve on the sump pump activates and flushes the pump — almost like a toilet. This removes the water from your home to prevent flooding.
Len The Plumber offers a broad range of top-quality sump pumps from the industry's most reputable manufacturers. Choose from our available sump pump products and have our team professionally install one in your Baltimore-area home today.
Signs Your Baltimore Home Needs a Sump Pump
With more than 50 miles of shoreline, Baltimore is significantly more prone to flooding than other regions of the United States. In fact, the most recent Flood Risk Map created by the Federal Emergency Management Agency (FEMA) illustrates that Baltimore's flood risk ranges from medium to very high. Even if your home is not mapped in a FEMA flood zone, you may still require sump pump services if you experience the following:
Your current unit is more than six years old
You have valuable items in basement storage
Your basement has flooded before
Your home is on an incline or flat area
If you've noticed the signs of needed sump pump services in your home, don't delay your service needs any longer. Len The Plumber has the end-to-end plumbing solutions you need to prevent costly water damage in your Baltimore home.
Contact us online or call us at (800) 950-4619(800) 950-4619 to schedule service today!
Our Sump Pump Services for Baltimore Families
At Len The Plumber, we are committed to keeping catastrophic water damage from impacting your home. We proudly offer the following sump pump services to residents throughout the Baltimore region:
Sump Pump Installation & Replacement: Select from our broad range of available units and have our team professional install or replace your existing system.
Sump Pump Repair: Get the expert service you need when you need it most by contacting our team for same-day sump pump repair services, seven days a week.
Sump Pump Testing: Prevent against sump pump failures by having our team professionally test your unit to ensure proper functionality.
Sump Pump Battery Backups: Ensure your unit always has the power it needs to prevent against basement flooding by having our team install a backup battery.
No matter what your sump pump needs may be, our team has the skills and expertise necessary to meet them in no time. Schedule sump pump installation, replacement, repair, testing, or backup battery installation with Len The Plumber today.
Why Schedule Service With Len The Plumber?
Our team isn't just dedicated to providing the end-to-end sump pump solutions that Baltimore residents need: We're also committed to offering an exceptional customer experience. When you choose our team for service, you'll always enjoy:
Same-day service, seven days a week
Certified plumbing technicians deeply familiar with Baltimore plumbing systems
Background-checked, drug-tested service technicians
On-time, tidy professionals that work around your schedule
Upfront, honest pricing with no extra fees for overtime, evenings, or weekends
Ready to make your home one of the 60,000 that our team proudly services each year? Contact us to schedule sump pump services with our plumbing professionals today!
Schedule Sump Pump Services Today!
When basement flooding persists in your Baltimore home, sump pump service is what you need to keep catastrophic water damage at bay. Len The Plumber offers the comprehensive sump pump services that Baltimore-area residents need to protect their personal belongings.
Contact us online or call us at (800) 950-4619(800) 950-4619 to schedule sump pump services in your home today.