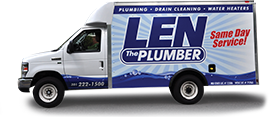 Have you ever considered how much energy is required to keep a tank full of water hot 24 hours a day? It turns out conventional water heaters are big energy wasters. Fortunately, there's another option: tankless water heating.
Len The Plumber has been installing and servicing tankless water heaters for decades. We are experts at helping Maryland families find the right tankless solution for their home and lifestyle. Switch to tankless, and you could save hundreds of dollars a year on water heating costs!
To request tankless water heater installation, repair, maintenance, or replacement in Baltimore, please contact us at (800) 950-4619(800) 950-4619.
Tankless Water Heater Installation & Replacement
Whether you're installing a water heater for the first time, upgrading your storage tank to a tankless model, or replacing your aging tankless unit, Len The Plumber has you covered. Our fully trained, licensed, and certified plumbers have experience installing tankless water heaters that deliver endless hot water for maximum comfort and convenience.
We have streamlined the process from start to finish. First, we help you size your tankless water heater based on the average flow rate you require. Then, we perform a professional installation. Finally, to complete your tankless water heater replacement, we haul away your old unit for you.
Enjoy reduced water heating costs, endless back-to-back showers, and a unit that lasts twice as long as a conventional tank—switch to tankless water heating today! We'll provide a upfront estimate to help you get your upgrade started.
Tankless Water Heater Repair
While they are robust appliances, tankless water heaters can still experience problems from time to time. Feel free to call us anytime—day or night, weekend or holiday—and we'll perform your tankless water heater repair with no overtime charge. Thanks to our speedy response time, you can expect same day service to get your hot water heater back up and running again in no time.
The types of water heating problems we can repair include:
Low water pressure
Mineral buildup
Not enough hot water
Pilot light and burner issues
Ignition failure
Exhaust blockage
And more!
Call Len The Plumber today at (800) 950-4619(800) 950-4619 to request emergency tankless water heater repair in Baltimore.
Tankless Water Heater Maintenance
Tankless water heaters are considered low-maintenance appliances, but we still recommend maintaining the unit once a year to help it run reliably and efficiently. After all, even though the unit doesn't store hot water, water still flows through it, leaving calcium and magnesium deposits behind. If left unaddressed, mineral buildup can eventually decrease efficiency, clog the passages, and limit the flow rate.
Tankless water heater maintenance involves flushing the burner system, calibrating the thermostat, tightening electrical connections, and testing the safety controls. Performing these tasks annually lowers your operating costs and promotes a longer life span. Plus, if we discover an issue during the inspection, we can fix it then and there, saving you the hassle of scheduling an emergency repair later on.
If it's been more than a year since your last tune-up, contact Len The Plumber for tankless water heater maintenance in Baltimore.
Tankless Water Heater Services in Baltimore, MD
Looking for a knowledgeable plumbing team to install, replace, repair, or maintain your tankless water heater? Give us a call! "Plumber" is in our name, and it's all we do. We promise to meet or exceed your expectations for ample hot water and low energy bills for many years to come.
Choose Len The Plumber for all your tankless water heating needs! Contact us online or call (800) 950-4619(800) 950-4619 today for fast, effective plumbing solutions in Baltimore.