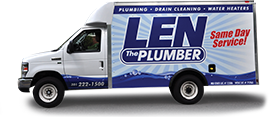 When the time comes to repair, maintain, or replace your water heater, only trust a licensed and certified plumber to get the job done. The team at Len The Plumber has 24 years of experience installing and servicing water heaters in the Baltimore area. We are experts in the latest water heating technology, so you can trust our professional opinion when it comes to making your water heater run as affordably and dependably as possible.
Give us a call today at 800-950-4619 to request water heater installation, repair, maintenance, or replacement in Baltimore.
Types of Water Heaters
At Len The Plumber, we have experience working with all makes and models of water heaters. Turn to us whenever you need any of the following repaired or replaced:
Gas water heaters: Natural gas is a popular fuel source. It's clean, energy-efficient, and cost-effective. We have serviced hundreds of gas water heaters over the years, so no matter what services you need, we can help!
Electric water heaters: If you don't have natural gas lines, or you want to heat your home's water supply with alternative energy sources, an electric water heater may be right for you. We'll help you size and install your unit with today's best practices in mind.
Storage water heaters: Conventional storage tanks remain the most common type of water heater installed in Baltimore. Improvements in tank construction and insulation make these water heaters more efficient than ever.
Tankless water heaters: You can do away with the standby heat loss associated with storage tanks by opting for a tankless water heater. Len The Plumber can install a whole-house unit or smaller point-of-use models to meet your needs.
Heat pump water heaters: Also known as hybrid water heaters, these exceptionally energy-efficient systems collect warmth from the air to heat your water supply. Heat pump water heaters are powered by electricity.
Solar water heaters: Another alternative option is to heat your home's water with the sun's energy. Roof-mounted cells and a backup energy system ensure you always have hot water when you need it.
Len The Plumber is proud to offer commercial and residential water heater services to families and business owners in the Baltimore area. Let us fulfill your water heating needs today!
Our Water Heater Services
Water heaters are among the top energy users in a home or business, accounting for as much as 25% of your utility bills. Help keep your water hot and your bills low with these services from Len The Plumber:
Water heater installation and replacement: Need a water heater for your new home? Ready to replace your outdated unit? Either way, our Baltimore plumbers have you covered with reliable water heater replacement and installation services.
Water heater repair: A broken water heater can be inconvenient, cause expensive home damage, or even endanger your family's safety. Call Len The Plumber for water heater repair, and we'll have it working again in no time.
Water heater maintenance: Preventative service can help your water heater operate more efficiently, break down less often, and last years longer. Trust our team to perform annual maintenance, and you'll get the most out of your water heater.
Our professional plumbers are standing by and ready to help. Call us to request the services you need today.
Schedule Water Heater Services in Baltimore, MD
Len The Plumber is a leading plumbing contractor in the Baltimore area with business practices that stand out from the rest. Choose us for same day service, seven days a week. Pay no extra charge for emergency and after-hours appointments. Take advantage of flexible financing to make your purchase affordable. And rest assured that your satisfaction is guaranteed!
Looking for a knowledgeable plumber to install, repair, replace, or maintain your water heater? Contact Len The Plumber to get the job started.