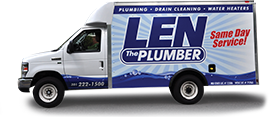 Do you have trouble with inconsistent water pressure in your Baltimore home?
Whether your dishes and clothes aren't getting clean in the wash or you're struggling to get proper coverage of your garden from a weak hose, low water pressure can significantly reduce your quality of life — to say nothing of the problems with your plumbing that inconsistent water pressure can cause.
Fortunately, with the help of a constant pressure system, your Baltimore home can have reliably high water pressure whether you're on city water or a well. If you need a constant pressure system serviced or installed, you can count on Len The Plumber to meet your needs.
To learn more about constant pressure system services from Len The Plumber, call (800) 950-4619(800) 950-4619 or reach out to us online today!
What Is a Constant Pressure System?
A constant pressure system works to ensure you always receive water at the same rate, even if you're using multiple appliances or fixtures simultaneously. It achieves this by reacting to drops in psi with increased pump speed, resulting in a constant pressure. Constant pressure systems are more commonly used in well systems to overcome problems with low pressure.
Constant Pressure System Installation
Need a constant pressure system installed in your Baltimore home? You can count on the specialists at Len The Plumber to install a system that provides:
Easy installation with no construction
Smooth, quiet operation
Multiple pressure settings
Built-in system protection
Quality installation makes all the difference — so make sure you count on pros like Len The Plumber to handle it right!
To schedule constant pressure system installation or replacement in Baltimore, contact Len The Plumber online or call (800) 950-4619(800) 950-4619 to speak with a team member!
Choosing the Right Constant Pressure System
When it comes to a constant pressure system, making the right choice is important to your quality of life and the durability of your system. Low-quality constant pressure systems can run through their drives at an accelerated rate, leaving you needing a replacement sooner than you'd like. The constant pressure system appropriate for your home will depend on:
Your water needs
Whether you're on city water or using a well
Whether you'd rather invest more upfront or replace earlier
And more!
It's best to let a professional assess your needs and guide you to the best option for you. Our plumbers are the best in the business, and you can count on Len The Plumber to provide exceptional service.
Call Len The Plumber at (800) 950-4619(800) 950-4619 or contact us online to speak with our team!
Schedule Constant Pressure System Services in Baltimore
Good water pressure doesn't have to be something you only enjoy occasionally. Let Len The Plumber install a constant pressure system for your home so that you can enjoy good water pressure all the time. When you choose Len The Plumber for constant pressure system services, you can be assured that you'll enjoy:
Transparent service with zero surprises
A home left as clean as we find it
Skilled technicians and polite customer service
Same day service, seven days a week
To schedule an appointment for constant pressure system services or learn more, contact Len The Plumber today by calling (800) 950-4619(800) 950-4619 or contacting us online!