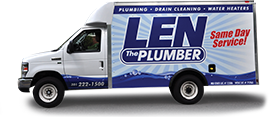 Need help with your well water system? That's one of Len The Plumber's specialties! The team at Len The Plumber understands the importance of a reliable well, whether that means installing a new well pump, replacing piping, repairing a water conditioning or filtering system, or upgrading to a new storage tank.
Whatever your well service needs, you can count on our expert plumbers to help! We offer well water system service in:
Baltimore County
Howard County
Anne Arundel County
Harford County
Carroll County
Cecil County
Call (800) 950-4619(800) 950-4619 or contact us online today for reliable well services!
24/7 Well Pump Repair & Replacement in Baltimore
Low water pressure? A faulty well pump could be the culprit. Damaged well pumps will cause drastic water pressure reductions, causing frustration in basic daily chores. If your well pump is shot, you may not get any water.
Call (800) 950-4619(800) 950-4619 for well pump repair or replacement from Len The Plumber.
Well Water Conditioning & Filtration
Water softening helps reduce calcium and magnesium in hard water, while water filtration can help remove bad tastes, smells, and impurities. Hard water can cause a variety of problems in a home, such as an inability to lather soap and the buildup of limescale which can hurt your pipes and corrode them.
Water softening systems can reduce and eliminate these issues. Our team of certified technicians can have these systems installed for you today using comprehensive well water testing.
Reach out online or call (800) 950-4619(800) 950-4619 to request well water testing and treatment today.
Well Booster Pump Repair & Replacement
Does your booster pump require professional attention? If any of these sounds familiar, you might want the team at Len The Plumber to take a look:
Low water pressure
Inconsistent water pressure
Air spitting from faucets and fixtures
Strange noises from pipes in combination with pressure issues
Once we arrive, we'll assess your needs and determine whether you need a repair, replacement, or installation of a booster pump to get your water pressure where it should be. We can help with municipal water systems as well!
Contact us online or call (800) 950-4619(800) 950-4619 to request booster pump services today!
Constant Pressure System Installation
Is your water pressure inconsistent? Want to enjoy a shower without worrying about someone flushing a toilet elsewhere in your home? A constant pressure system might be exactly what you need.
The team at Len The Plumber can inspect your plumbing for the source of your water pressure issues. If a constant pressure system is the right solution, we'll provide upfront pricing and expert installation so you can enjoy consistently great water pressure.
Call (800) 950-4619(800) 950-4619 or reach out to us online to learn more about constant pressure systems and request service.
Storage Tank & Control Repair
When you need expert storage tank and control repair services, count on the team at Len The Plumber. Not sure you need professional service? Look for these signs:
Reduced pressure, especially on upper floors or on the tank gauge
Pump cycling
Leaks at the pressure tank
Visible damage or corrosion
Air in system
Contact us online or call (800) 950-4619(800) 950-4619 for fast repairs you can count on.

Schedule Well Water Services in the Baltimore, MD Area Today
When you need well system services in the Baltimore area, you can always count on Len The Plumber. Our goal is simple: We want to offer exceptional plumbing services backed by excellent service and a dedication to customer satisfaction.
We provide same day service, seven days a week, so you never have to wait long for well services from trained professionals.
Our friendly team members are standing by, ready to help! Call us at (800) 950-4619(800) 950-4619 today to schedule a service!
Frequently Asked Questions About Well Services
How do you know if you need well pump repair?
Problems with pressure, water quality, or fixture behavior in a home with a well will usually come down to well repairs. A plumber can inspect your plumbing and determine the root cause of the issue.
Where is my well pump located?
Different types of well pumps are located in different places:
A shallow well jet pump is just inside the well housing
A deep well jet pump is located within the well, with its motor above it in the well house
A deep well submersible pump sits inside the water at the bottom of the well.
If you're unsure where your housing is, track where water enters your home and follow it out.
Why am I not getting water from my well?
Several problems can cause you to have no water, not the least of which is a simple failure of your well pump.
Even a good well pump well maintained will reach the end of its life span eventually. Damaged pipes, clogs due to sediment and poor upkeep, and a hundred other problems can also result in this issue.