Over 15 million U.S. households receive their water from private ground water wells. While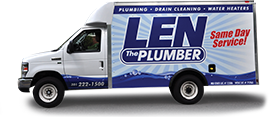 the EPA regulates public drinking water systems, they do not regulate privately owned wells. Because of this, homeowners with private wells are responsible for the safety of their water. Therefore they should have their water tested regularly.
If you are looking for water testing and treatment options, call Len The Plumber. Our experienced technicians can come out and test for things such as pH level, iron, and mineral content. Or, if you have already had your water tested and are looking for water treatments, we can provide you with the appropriate system to ensure you have safe drinking water.
Len The Plumber can provide you with a water analysis on the spot in your home. We test for things such as pH, Iron and other mineral contents that can be unsafe or a general nuisance to your home.
pH Level Testing
The pH level, "potential hydrogen," tells you how acidic your water is. The pH level of water can change how your water looks and tastes. When water has a low pH, it means that the water is more acidic, and can be corrosive and harmful to any metals it comes into contact with. This is a cause for concern because the corrosion can seep into the water you drink.

When water has high levels of pH, it is considered to be "hard water." Hard water tends to make water have a bad taste. It causes lime scale buildup on plumbing fixtures and pipes. Even little things such as washing your hair with hard water will make your hair look dull and you'll need to use more soap to get lather. The chart below shows how hard water can harm your water heater.
Iron Testing
The reason to test for iron is because iron in water can cause yellow, red, or brown stains on laundry, dishes, and plumbing fixtures such as sinks. In addition, iron can clog sprinklers and other devices such as dishwashers, which can lead to costly repairs. Iron gives a metallic taste to water, and can affect foods and beverages.
Water Treatment Options
There are many different treatment options for the treatment of water since no single treatment will protect you against all problems. Homeowners use a water treatment unit to:
Remove specific contaminants
Protect your home from corrosion
Improve the taste of drinking water
Homeowners have two water treatment options, either a point-of-use or a point-of-entry system. Both are systems that Len The Plumber can install. Point-of-entry systems are typically installed after the water meter or well tank and treat most of the water entering a residence. Point-of-use systems are systems that treat water in batches and deliver water to a tap, such as a kitchen or bathroom sink or a secondary faucet mounted next to a tap.
The most common types of household water treatment systems consist of:
Filtration Systems
A water filter is a device which removes impurities from water by means of a physical barrier.
Water Softeners
A water softener is a device that reduces the hardness of the water. A water softener removes the calcium and magnesium ions that create "hardness."
Disinfection
Disinfection is a physical or chemical treatment where microorganisms are killed. Chlorine and chlorine dioxide are examples of chemical treatment while Ultraviolet would be an example of physical disinfectant.

Ultraviolet treatment systems use ultraviolet (UV) light to kill microorganisms such as bacteria and viruses. The effectiveness of UV is determined by how clear the water is so it is important that dirty water is filtered before using UV.
Reverse Osmosis Systems
Reverse osmosis systems use pressure to force water through a membrane casing. These systems help reduce the amount of metals and minerals in water such as sodium, chloride and heavy metals, such as copper, chromium, and lead. In addition, some of these systems can also reduce contaminants such as arsenic V, fluoride, and nitrates.
If you have concerns about your water or are in the market for a water treatment system, give Len The Plumber a call today!