Need a 24/7 solution to your plumbing problem? You can count on us!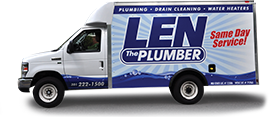 Whether you're looking for routine maintenance or you need plumbing rooter service for a major problem, we'll be there. We want to make it easy for you, so we work around your schedule, seven days a week!
Our certified plumbing technicians will arrive promptly, listen to your needs, and offer quality plumbing solutions. It's no wonder more families in the Baltimore, MD, region rely on our knowledge and experience to get their plumbing systems back in working order.
Don't wait — it's so easy!  Sign up with our plumbing service request form or call today to schedule an appointment.
Our plumbing technicians service Baltimore County, Howard County, Anne Arundel County, Harford County, Carroll County, and Cecil County.
Signs You Need Emergency Plumbing Service
Your plumbing will work great until you least expect it. When you encounter a plumbing emergency, you want a plumber to be able to fix the problem right away. At Len The Plumber, we offer same day service to all of our Baltimore-area customers and dispatch a plumber as soon as possible. Call us right away if you experience any of the following signs of a plumbing emergency:
Leaking pipes
Overflowing toilets
Sewer backups
No hot water
Sump pump breakdown
No water pressure
If you have an emergency, call Len The Plumber at (800) 950-4619(800) 950-4619 right away! We are available to answer your call 24/7!
Trusted Plumbing Repairs in Baltimore
If you're having any of the following plumbing situations, our certified Maryland plumbers can help:
Don't see your problem listed? Call and ask us about it!
Len The Plumber is a full-service plumbing company, providing everything from drain rooter service to sewer line replacement and everything in between! No matter your plumbing issue, we've probably seen and provided the plumbing solution before!
If you live in Baltimore or the surrounding Maryland areas, contact us today to schedule your plumbing rooter service!

Choose Len The Plumber for All Your Plumbing Needs
At Len The Plumber, we understand that emergencies don't happen when it's convenient. We have 120 highly skilled plumbers ready to tackle whatever plumbing emergency you have. We are always only a phone call away!
We know no one likes hidden fees and complicated pricing, so we make sure to discuss your options with you.
For 25 years, Len The Plumber has served the Baltimore region. If you have a plumbing emergency, call the professionals at (800) 950-4619(800) 950-4619 or contact us online!
Frequently Asked Questions About Plumbing Services
How often should I have my drains professionally cleaned?
Many people try to clean their drains themselves, using harsh cleaners. You should have your residential and commercial drains cleaned at least once a year and any time you experience a blockage that you can't easily clear in your sinks, showers, or toilets.
What are the signs of a sewer line blockage or problem?
Sewer line problems often give warning signs before you have a backup, including:
Strong odors
Slow-moving drains
Gurgling toilets
Standing water on your lawn
How will I know if it's time to replace my water heater?
Standard tank water heaters can last 15 years or more with proper maintenance. As the system nears the end of its life, you may notice:
More expensive and frequent repairs
Spikes in your utility bill
Not enough hot water
When these issues arise, it's best to invest in a replacement water heater rather than continuing to repair an older unit.
What are the signs of a failing well pump?
You should consider a
well pump replacement
if your pump is more than 8 years old and produces little to no water pressure, short cycles, or provides cloudy or muddy water.
If you have any more questions, we have answers! Call Len The Plumber today at (800) 950-4619(800) 950-4619 or contact us online to schedule plumbing services!