Did you know that homeowners are responsible for the main water line that connects their home to the city? If there's a blockage that exists in your main water line, failure to address the problem could result in a fine from the township. When your main water line clogs or needs repair, you need a knowledgeable plumbing professional to get the job done right.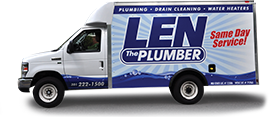 At Len The Plumber, our team provides the comprehensive main water line services that Baltimore families need to ensure top system performance. When your home needs main water line clog removal services, don't hesitate to contact our team to schedule today!
What Causes Your Main Line to Clog?
A blockage in your main water line can be extremely difficult to diagnose without the right tools and training. Len The Plumber's team of top plumbing technicians has the skills and expertise necessary to remove virtually any clog affecting your system. We've expertly removed many different causes of main water line blockages, including:
Tree Root Infiltration: Tree roots can wiggle their way into your main water line pipes, leading to severe blockages and leaks that can impact your entire plumbing system.
Misaligned Main Line: Whether due to improper installation or age, misaligned water pipes can allow dirt and other debris to enter the line and cause blockages.
No matter what's causing your main water line to clog, Len The Plumber has the team you need to resolve the issue in no time. Get the expert clog removal services you need for your Baltimore home by contacting us today.
Signs Your Main Water Line Needs Repair
When your main water line is clogged, it won't be coy about letting you know a problem exists. Homeowners should watch out for the following telltale signs that their main water line needs clog removal services:
Multiple clogged drains
Low water pressure
Your water is discolored
Your fixtures are noisy
Your utility bills are higher than normal
Your yard is flooded
Baltimore families never have to fear when a blockage appears in their main water line: Len The Plumber has the highly trained plumbing technicians they need to resolve the problem once and for all. Our team is experienced in main water line repair, replacement, and installation.
When a main water line clog wreaks havoc on your plumbing system, don't hesitate to contact the professional plumbers at Len The Plumber today!
Choose Len The Plumber for Main Water Line Service in Baltimore
For more than 25 years, Len The Plumber has provided the long-lasting main water line clog removal services that Baltimore families can trust. No matter what the underlying cause of your blockage may be, our team has the tools and experience necessary to resolve the problem in no time.
Contact us to schedule clog removal services for your home's main water line today!