The pipes in your home are designed to last a long time – often as many as 50 – 80 years.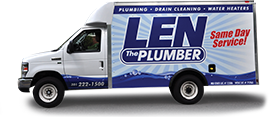 But like everything else, their lifespan is limited and eventually, they will start to break down. You probably won't be able to see it, but over time you may start to notice signs of pipe deterioration, including significantly reduced water pressure and discoloration or bitter tastes in your drinking water. If this is the case, call Len The Plumber – a home repiping company that will get you set for the next 80 years!
At Len The Plumber, we know how important it is to have durable, long-lasting pipes. As a home repiping company, we offer PVC, copper, or PEX plastic pipes for your home. Copper pipes are generally more popular, and while they do cost slightly more, their durability, lightweight construction, and flexibility more than make up for the extra cost.
If you are searching for a home repiping company, fill out the form to the right or pick up the phone and call us today!
Our Home Repiping Services
While the thought of a home repiping job can be intimidating, when you call Len The Plumber, you have nothing to worry about! As a home repiping company, our plumbing technicians have years of experience with whole home repiping. Let's face it – when it comes to such a big job, it's important to go with an expert you can trust. So when it's time to repipe your home, call the Len The Plumber!