Do you worry about shutting off your outdoor faucet every winter? Because of the way they were designed, older hose bibbs (outdoor faucets) are at high risk of freezing during the cold months. Fortunately, newer models of outdoor faucets have been developed that eliminate this risk entirely! If you want to install a freeze-proof hose bibb in your home, call Len The Plumber today!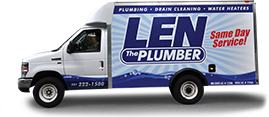 Also called frost-proof bibbs, sill cocks, or freezeless faucets, freeze-proof hose bibbs prevent water from sitting in the unprotected, unheated end of the supply pipe. They do this by keeping the valve seat (the point where the water stops when the faucet is off) inside your warm home.
If you're tired of struggling with freezing hose bibbs or outdoor faucets, don't wait – fill out the form to the right or pick up the phone and call us today! Our expert Baltimore-area plumbing technicians will swap out your old outdoor faucets so you'll never need to worry about frozen outdoor pipes again!
Call Len The Plumber at (800) 950-4619(800) 950-4619 or contact us online to schedule an appointment – we offer same day service seven days a week!
Our Hose Bibb Services in the Baltimore, MD area
At Len The Plumber, we've seen what happens when hose bibbs freeze. Trust us – burst pipes are not something you want to deal with come spring! The Baltimore-area plumbing technicians at Len The Plumber can perform every step of the hose bibb repair and replacement process, including:
Draining the outdoor faucet
Cutting the supply line
Removing the old outdoor faucet and installing a new one
Fitting and soldering the pipe connections
Reinstalling the stem assembly
If you want to protect your outdoor hose bibbs from freezing, call Len The Plumber today!
Hose Bibb Repair in the Baltimore, MD Area
If you are dealing with a leaky hose bibb, chances are you're wasting a lot of water. This water can cause damage to your home's foundation and an increase in your utility bill. It can also lead to pesky mosquitos, which is less than ideal if you plan on being outdoors frequently in the summer!
Fortunately, Len The Plumber offers hose bibb repair services. Whether it's something simple like tightening the packing nut or replacing the washers or something more complex such as cleaning the valve or replacing the rubber O-ring, our technicians are experts at getting to the bottom of what's causing your leak. If we find that your hose bibb isn't repairable, we will provide you with replacement options catered to your unique needs and budget.
Contact us online to schedule hose bibb repair services for your Baltimore, MD area home, or give us a call at (800) 950-4619(800) 950-4619 today!
Hose Bibb Replacement in the Baltimore, MD Area
If your hose bibb needs to be replaced, you can rest assured that Len The Plumber will provide you with the best available options and take care of your replacement quickly! If you have an older hose bibb or outdoor faucet, chances are, it is particularly susceptible to freezing during the cold winter months. Len The Plumber can offer you replacement options that eliminate the risk of frozen and busted pipes.
Our freeze-proof hose bibbs, also called antifreeze spigots, utilize a longer pipe, keeping the water connection closer to the inside your home where the air is warmer and the water is unlikely to freeze. This ensures that you'll never have to deal with frozen or busted pipes causing wasteful leaks, expensive water damage, or increased utility bills.
Call Len The Plumber today at (800) 950-4619(800) 950-4619 to discuss your hose bibb replacement options or contact us online to schedule an appointment! We offer same day service seven days a week!
Don't let leaky outdoor hose faucets at your Maryland home stress you out. Just give Len The Plumber a call and we'll get to the bottom of it, fast! Our friendly experts are equipped with fully stocked trucks, allowing us to make repairs on the spot. So, whether you're into gardening, running through the sprinkler, or maintaining a beautifully green lawn, we'll get your outdoor faucet in working order quickly and let you get back to doing what you love.