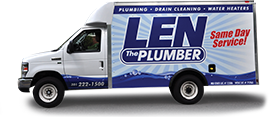 As a homeowner, you are responsible for the portion of your sewer line that leads from your house to the main sewer lateral under the street. This means that if you have a blockage, clog, root infiltration, or other sewer line problems, it's up to you to find a plumber who can repair the line.
When you're looking for a no-dig sewer line repair method, trenchless pipe repair is the way to go!
To get your FREE estimate and same day plumbing rooter service, call Len The Plumber at (800) 950-4619(800) 950-4619 or contact us online now!
How Trenchless Sewer Line Repairs Work
Replacing an underground sewer line used to mean destroying your entire front yard. But with trenchless sewer repair, we can spare your lawn, driveway, and walkways from disaster.
Trenchless pipe and sewer repair typically takes one to two days, depending on the extent of the damage and the scope of the job. Here's our method for trenchless sewer pipe bursting:
We create small access points in the damaged pipes.
A cable is inserted and pulled through, following the path of the existing line.
Simultaneously, the cable pulls the replacement line into position. The new polyethylene pipe is rated to last for 50 years.
Our trenchless solution means that your drains will be repaired quickly, without destructive open trench digging in your yard, patio, driveway, or garden.
Our service technicians have years of experience when it comes to trenchless sewer line repairs. We are the trenchless repair experts, and we can solve your sewer problem—guaranteed!
We offer FREE estimates and a 2-hour response time on all main drain and sewer line emergencies!
Call (800) 950-4619(800) 950-4619 to schedule trenchless sewer line service in or around the Baltimore area.
Video: How Trenchless Sewer Line Repairs Work
Sewer Line Repair Services
Call us if you need sewer service, and we'll match the right technician to your job and make sure your sewer line is fixed correctly—the first time!  To save you time and money, we offer:
Free estimates on sewer line replacement
Same day and emergency service with zero extra fees
Competitive financing
If you are experiencing any of these problems or it's been determined that your main water line needs replacement, we'll send a certified technician who specializes in water supply lines.
Len The Plumber is committed to providing the highest quality sewer and drain rooter service for all trenchless pipe repair jobs—whether you're a first-time customer or have been with us for 20 years.
To get your FREE quote and schedule same day service, call us at (800) 950-4619(800) 950-4619 or contact us online now.
Len The Plumber is proud to be a top-rated rooter plumbing company in Baltimore! Whether you need trenchless sewer line repair or any other plumbing rooter service, we've always got you covered!