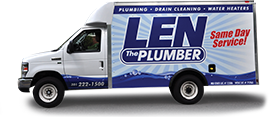 If your tankless water heater starts misbehaving or stops functioning completely, don't panic — the team from Len The Plumber can arrive at your Baltimore-area home to resolve the problem in no time!
Our plumbers know the ins and outs of tankless water heaters, so we'll be able to identify the cause of your problem and restore your hot water access quickly. We know that hot water is crucial to your daily routine, so we provide same day service seven days a week.
Call (800) 950-4619(800) 950-4619 or contact Len The Plumber online today to learn more about tankless water heater repair in Baltimore./strong>
When Should You Call Len The Plumber for Tankless Water Heater Repair?
You should reach out to a professional as soon as you start noticing problems with your water heater or any other part of your plumbing, as repairing a minor issue early helps you avoid needing to pay for major repairs later. Common warning signs for tankless water heater issues include:
Signs of rust, particles, or discoloration in your water
Any odd smell or sound emanating from your water heater
Unusually long startup times for your hot water
Hot water that runs out quickly despite normal usage habits
Problems like this rarely resolve on their own — instead, you'll find yourself looking at more serious and costly repairs.
Avoid the hassle and expense by scheduling prompt service. Contact Len The Plumber online or call (800) 950-4619(800) 950-4619 today!
Tankless Water Heater Repairs in Baltimore
No matter how serious or minor your tankless water heater problems might seem, you can rely on Len The Plumber to provide a lasting solution. Common tankless water heater problems we tackle include:
Water pressure issues
Corrosion or mineral buildups
Incorrect water temperatures
Cold-water sandwiches of hot, cold, and hot water
Issues with your pilot light, ignition, or gas
Exhaust blockages
And more!
Call (800) 950-4619(800) 950-4619 or contact Len The Plumber online to request tankless water heater repair service for your Baltimore home today!
Our Tankless Water Heater Repair Process
Whether you schedule tankless water heater repair or need emergency service, you can expect us to:
Show up quickly
Inspect your tankless water heater
Diagnose the issue
Explain your options with full transparency about options and pricing
Answer any questions you may have
Repair your tankless water heater
Test your tankless water heater to ensure proper function
Clean so that your home looks like it did when we arrived
If we discover an issue we don't believe can be adequately or reasonably repaired in the process, we'll explain why and suggest a tankless water heater replacement as an alternative. We also offer flexible financing options.
Schedule a same day service visit in the Baltimore area by calling (800) 950-4619(800) 950-4619 or by contacting us online now!
Tankless Water Heater Repair vs. Replacement
The question of repair or replacement often comes down to your tankless water heater's age and general condition.
Older water heaters are less efficient due to outdated technology and wear and tear. They will need an increasing number of repairs to stay functional over time. You might also need a tankless water heater replacement if your current unit requires repairs costing over 50% of its value or doesn't match your usage habits, so you need a bigger or smaller system.
Ultimately, you're usually best served by working with a plumber you can trust to tell you honestly whether repair or replacement is the smartest move for your circumstances, budget, and goals.
Schedule Tankless Water Heater Repair in Baltimore & Surrounding Areas
Need an expert plumber to tackle your tankless water heater? Reach out to the team at Len The Plumber! We've seen all the problems a tankless water heater can have, and we know how to resolve them.
Choosing Len The Plumber means:
Zero surprises in pricing or procedure
Service from local plumbers with 25 years of experience
Flexible financing options with approved credit
Respectful customer service and technicians
Your home will be left as clean as we find it
Ready to schedule a visit? Call us today at (800) 950-4619(800) 950-4619 or contact Len The Plumber online to learn more about our tankless water heater repair service in Baltimore.