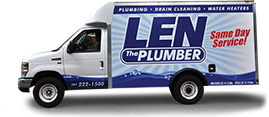 It's easy to take your water heater for granted, that is until something goes awry. If you suspect your tankless water heater may be due for replacement or are interested in installing a tankless water heater to replace your storage tank water heater, Len The Plumber can provide the state-of-the-art solutions your Baltimore County home deserves.
Our team has delivered top-quality tankless water heater installation and replacement solutions from the industry's most reputable manufacturers for over 25 years. We are committed to helping you achieve continuous, uninterrupted access to the hot water supply you need for cooking, cleaning, bathing, laundry, and more!
If you need tankless water heater replacement in Baltimore, look no further than Len The Plumber. Call (800) 950-4619(800) 950-4619 to schedule tankless water heater replacement today!
Signs You Need Water Heater Replacement in Baltimore, MD
When your system needs replacement, it won't be shy about letting you know that a problem exists. Homeowners should watch for the following signs that will indicate it's time to get a new tankless water heater:
Old age: Most tankless water heater systems are designed to last for over 20 years. If your unit is approaching the end of its life span and you've had to call for a lot of repairs recently, now's a good time to schedule replacement instead of waiting on the system to break down completely.
Poor performance: When you're constantly struggling to have your unit keep up with your hot water demands, you may have irreparable damage on your hands that only replacement services can remedy.
Strange-smelling, -tasting, or -colored water: Whether you notice a strange odor, taste, or color to your water, it can be an indication of corrosion or excess mineral buildup within your system. A replacement may be necessary to restore clean, fresh hot water access.
Odd behaviors: From strange sounds to system leakage, anything you think may be out of the ordinary for your tankless water heater likely deserves attention from a licensed plumber who can determine if you need a repair or replacement.
If you've noticed any of these warning signs, don't wait any longer to schedule service. Call (800) 950-4619(800) 950-4619 to schedule tankless water heater replacement for your Baltimore County home today!
Our Tankless Water Heater Replacement & Installation Solutions
If you need a replacement water heater for your Baltimore-area home, you will find the solution and quality service you need at Len The Plumber.
Our team understands how to match you to the perfect tankless water heater unit based on your family's needs and account for several factors, including:
System size: An incorrectly sized tankless water heater can end up costing you in high water bills or leaving you always running low on hot water. Have confidence that you have the right-sized system for your hot water needs by trusting our replacement specialists.
The number of home occupants: Your family's size has a lot to do with how well your tankless water heater can meet your hot water demands. We take this into account to find the best solution for your home.
Your existing plumbing system: Our team is deeply familiar with Baltimore-area plumbing systems, allowing us to find the tankless water heater that's most compatible with the system in your home.
Your financial needs: We work carefully within your budget, offering flexible financing solutions on approved credit to qualifying families so they can afford the cost of their tankless water heater replacement.
Don't let decreased levels of hot water in your home go ignored. Get the fast, reliable solutions you need by scheduling tankless water heater replacement with Len The Plumber. Call (800) 950-4619(800) 950-4619 to schedule!
Schedule Tankless Water Heater Replacement in Baltimore
For superior tankless water heater services in Baltimore, MD, Len The Plumber is the only team you need for the job. We've proudly served the region for more than 25 years, delivering the fast, high-quality service our customers need to restore hot water access to their homes quickly and efficiently.
When you select our team for service, you can always trust that we will deliver:
Honest, upfront pricing
Zero extra fees for after-hours emergency service
Respectful, courteous technicians that leave your home clean and tidy
Expert service professionals deeply familiar with Baltimore-area plumbing systems
Get the fast, reliable tankless water heater replacement solutions you need by calling (800) 950-4619(800) 950-4619 or contacting us online to schedule tankless water heater replacement in Baltimore today!