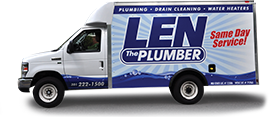 Clogged drains can cause all sorts of problems for Baltimore homes, from pooling wastewater to foul odors and backups. When your drains slow down or stop draining, don't reach for a caustic, damaging drain cleaner—contact Len The Plumber for professional drain cleaning and clearing service!
Call 800-950-4619 or contact us online now for drain clearing and cleaning service in or around the Baltimore area.
We offer 2-hour response times for drain emergencies, and we never charge extra for after-hours emergency plumbing service!
We proudly offer drain, sewer, and plumbing service in Baltimore County, Howard County, Montgomery County, Prince George's County, Anne Arundel County, Harford County, Carroll County, and Cecil County.
Comprehensive CLOGGED DRAIN SERVICES for Baltimore-Area Homes
At Len The Plumber, our expert plumbers have seen all kinds of clogged drains—and we've seen the damage that can happen when clogged drains are ignored. That's why we offer first-class service to Baltimore-area homeowners to help them clear and clean: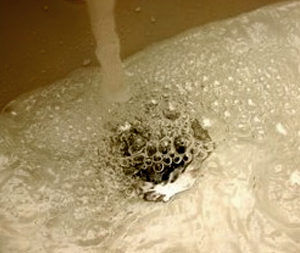 Clogged bathroom sinks
Clogged tub drains
Clogged kitchen sinks
Clogged garbage disposals
Slow drains
Clogged sewer lines
And more!
When you call us for drain clearing service, we will:
Use state-of-the-art cameras to identify the location and cause of the clog
Explain the best options for clearing the clog
Put down plastic sheets and other protective materials before beginning the drain service
Use cutting-edge tools, like sewer snakes, tubing cutters, and hacksaws, to efficiently and flawlessly clear the clog and restore your home's drainage
Test your drains and clean up after ourselves when the drain rooter service is complete
Call 800-950-4619 or contact us online now to schedule drain clearing service in or around the Baltimore, MD area.
DRAIN Cleaning SERVICE in Baltimore, MD
Whether you're dealing with a buildup that's slowing your drains or a drain clog that's causing problems, Len The Plumber has the solutions you need to clean and restore your drains. Our drain cleaning service generally involves:
Video camera inspections
Drain vent cleaning
Rain leader drain service
And more!
Some common signs that it's time to call Len The Plumber for drain cleaning service include:
Gurgling drains
Bad odors coming from drains
Wastewater backups in drains
While we're ready to provide drain cleaning and rooter service when you're having drain problems, we also provide preventative drain cleaning and maintenance service to help you prevent issues from happening in the first place.
Schedule DRAIN Clearing & Cleaning SERVICE for your Baltimore-area home
When it comes to drain clogs and other drain problems, the expert team at Len The Plumber has seen and fixed it all! Our expertise can give you confidence that we'll restore your Baltimore home's drainage as quickly as possible.
Call 800-950-4619 or contact us online for drain cleaning and clearing service in or around the Baltimore, MD area.
When you contact Len The Plumber for drain service, you can always expect:
Free, 100% accurate estimates, upfront pricing, and flexible financing options
2-hour response times for drain emergencies and no extra fees for after-hours emergency drain service
Exceptional service and first-class solutions from experts who put your needs first!
Len The Plumber is proud to be a top-rated plumbing company in Baltimore! We invite you to experience our excellence for yourself, and we look forward to helping you with any of your drain and plumbing needs!