Is the constant drip-drip of a leaky kitchen faucet or leaky bathroom faucet keeping you up at night?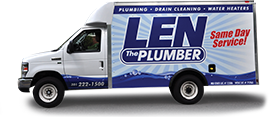 Leaking faucets can do a number on your home's plumbing system – corroding your pipes and potentially wasting hundreds of gallons of water per month (and hundreds of dollars a year)!
Your faucets are some of the most commonly used appliances in your home. As a result, it's no wonder they tend to wear out after a while – particularly the more fragile components like washers and O-rings. Fortunately, leaky faucet repair is easy for the experts at Len The Plumber! All of our staff plumbers are faucet repair pros, and we provide same day service, seven days a week. If you need a leaky faucet repaired or faucet replacement call us or click today!
If you need your leaky faucet repaired, don't wait! Fill out the "Schedule Appointment" form or pick up the phone and call us today – we'll have your leaky faucets fixed up in no time.  Our plumbing technicians service Baltimore County, Howard County, Montgomery County, Prince George's County, Anne Arundel County, Harford County, Carroll County, and Cecil County.
Leaky Faucet Repair Services
At Len The Plumber, we've seen it all when it comes to leaky faucets. Let's face it – your faucets are some of the most frequently used appliances in your home. All that wear and tear is bound to catch up with them at some point! That's why we offer fast, full-service faucet repair and replacement in Baltimore, Anne Arundel, Carroll, Howard, Harford, Cecil, Prince George's, and Montgomery County, Maryland, seven days a week. Call us today if you need:
Kitchen faucet repair
Bathtub faucet repair
Shower faucet repair
Outdoor faucet repair
Laundry tub faucet repair
Leaky faucets are more than just a minor inconvenience. All that dripping water can corrode your sink and drain basins, wear away at your pipes and waste hundreds of gallons per year! Don't let this happen to you – call our friendly Maryland plumbing technicians for faucet repair today!