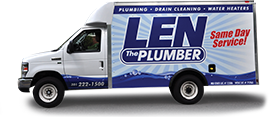 Faucets are the key to tapping into your plumbing system. While these fixtures are simple to operate and maintain, they can start to leak and experience other problems over time.
Whenever that happens, you can turn to Len The Plumber for help! We proudly offer same day faucet service at zero extra cost, so you never have to suffer with a leaky faucet for long. Whether your broken faucet is in the kitchen, bathroom, laundry room, or outside, our experienced plumbers have the tools and knowledge necessary to stop faucet leaks once and for all.
Call (800) 950-4619(800) 950-4619 or contact Len The Plumber online to schedule leaky faucet repair or replacement in the Baltimore area.
How to Detect a Faucet Leak
The easiest way to tell if a faucet is leaking is to check for the telltale drip, drip, drip of water from the tap. Faucets can, however, leak from other areas. So, be sure to check for standing water around the handles and puddles in the cabinet under the sink.
If your water bills seem high, but you can't detect signs of a leaky faucet, try this simple test:
Check your water meter, taking note of the reading.
Don't use any water for about two hours.
Recheck the meter—if the numbers have gone up, that means a hidden leak is driving up your water bills!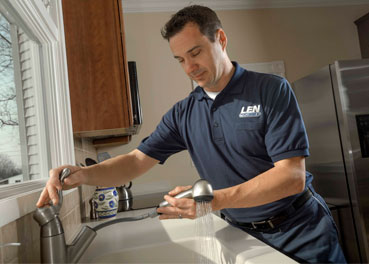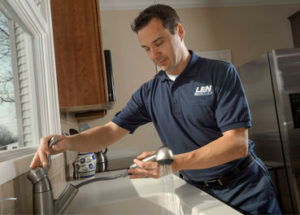 The source could be a leaky faucet, toilet, water heater, or pipe. Luckily, Len The Plumber can detect and repair water leaks of all kinds. Whether your faucet leak is apparent or hidden, Len The Plumber can perform the repair you need or replace your faucet altogether.
Call (800) 950-4619(800) 950-4619 or contact us online for faucet repair or replacement service at your Baltimore-area home.
Leaky Faucet Services in the Baltimore Area
At Len The Plumber, we have experience servicing all types of faucets, no matter where they are in your home. So, don't hesitate to call us for any faucet repair or replacement you need. We can work on the following plumbing fixtures:
Kitchen faucets: These crucial fixtures are the key to a functional kitchen. Let our experienced kitchen faucet repair team figure out the source of the problem and recommend the most cost-effective repair. If your faucet is outdated, it may be time to replace it—perhaps with a new motion- or touch-activated model for optimal convenience.
Bathroom faucets: From washing your face to brushing your teeth, you rely more on your bathroom sink than you probably realize. Even a slow drip here of just three drops a minute wastes about 157 gallons of water a year. Stop the waste and fix your bathroom faucet today!
Showerheads and tub faucets: There's nothing like a nice, hot shower to start your day. But if water keeps dripping from the showerhead or tub faucet after you turn the handle, that's a problem. Leaks here don't just waste water—they also drive up your utility bills. Regain control over your monthly costs by fixing these leaks as soon as possible.
Outdoor faucets: Your home's faucets aren't limited to indoors. Outdoor faucets are particularly prone to problems because they are exposed to the elements. In fact, a leak here might be a symptom of a cracked or damaged pipe. Rest assured that Len The Plumber can fix pipe leaks if that's causing the problem.
Laundry and utility faucets: The sink in your laundry or utility room may be durable, but that doesn't mean the faucet is immune to leaks. If problems occur, you could have puddles, rust, and mold to contend with. Don't let it get to that—repair your leaky laundry faucet without delay!
Schedule Faucet Repair or Replacement at Your Baltimore-Area Home
No matter how harmless faucet leaks may seem, it's always a good idea to fix them ASAP. When leaks and faucet problems are ignored, they can cost you in terms of higher utility bills and a higher risk of damage to your home. To get top-notch faucet replacement or repair service from trusted local plumbers in Baltimore, simply contact Len The Plumber today!
Call (800) 950-4619(800) 950-4619 or contact Len The Plumber online to schedule faucet repair or replacement service in the Baltimore area.
We'll respond quickly, fully equipped to provide the plumbing service and solutions you need! That's why we're a top-rated Baltimore plumbing company and why our customers love us!