7 Tips to Keep HVAC & Plumbing Problems Off the Thanksgiving Table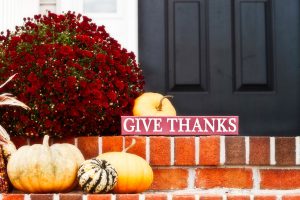 The dinner takes center stage at Thanksgiving, but your home's HVAC and plumbing systems are the stars behind the scenes. Here's what it takes to make sure your home is ready for the food, fun, and festivities:
1. Get Heated
Chances are your oven will be working overtime preparing on the days leading up to Thanksgiving and the big day. Take advantage of that extra warmth from the oven and burners, and turn your thermostat down a few degrees while you're cooking.
2. Scrape the Scraps
Nothing will bring your Thanksgiving dinner to a grinding halt like a broken garbage disposal. When helpers contribute to the dinner prep, remind your sous chefs that things like celery, fruit peels, and asparagus don't go into the disposal. Stringy vegetables and fibrous peels are hard to grind and can burn up your garbage disposal's motor.
3. Keep Control
Travel plans might be part of your Thanksgiving tradition. If that's the case, now is a great time to install a programmable thermostat. A smart thermostat ensures your home's HVAC system maintains a lower temperature while you are away to save on energy costs and brings the temperature back to a comfortable level in time for you to come home.
4. Change the Filter
Before you spend the day giving thanks, spend some time changing your home's air filters. Over the summer, these filters removed pet dander, dust, and other airborne allergens from your home. Start fall fresh with new air filters and improve your home's HVAC efficiency. Your HVAC system will thank you.
5. Plumbing Prevention Plan
If you've noticed slow-draining sinks, dripping faucets, or toilets that aren't flushing properly, it's a good idea to get your plumbing in working order before a full house puts extra strain on the system. Troubleshoot your plumbing issues or call a professional plumber to complete your plumbing to-do list now before your plumbing problems become plumbing emergencies.
6. Failure to Flush
Your kitchen and bathroom are the two hardest working rooms in the house during the Thanksgiving holiday. Ensure you provide a trashcan in the bathroom so guests can conveniently dispose of trash and anything other than toilet paper.
Don't provide so-called flushable wipes in the bathroom. You can overstuff a turkey but don't overstuff a toilet, or you may have a failure to flush problem.
7. At Your Service
Before you play host this Thanksgiving, it's a great idea to have a plumbing and HVAC expert conduct a full fall tune-up, testing your systems for efficiency and diagnosing problems early. A preventative maintenance plan is your recipe for keeping your HVAC and plumbing system off the table this Thanksgiving.
Schedule Same Day Service with Len The Plumber Heating & Air
Your Thanksgiving festivities should be all about food, family, friends, and fun—not problems with your plumbing and HVAC and plumbing systems. At Len The Plumber Heating & Air, our experts can give you the peace of mind that comes with knowing you have a professional on standby just in case.
Call (800) 950-4619(800) 950-4619 to request HVAC or plumbing services in the Baltimore area.