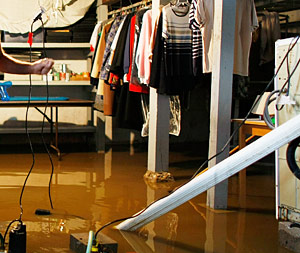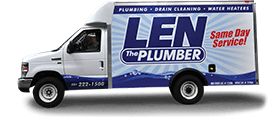 Here in the Mid-Atlantic United States, flooding is a major problem for many families. On average, flood damages throughout the country exceed $3 billion each year, making it critical for families to have a knowledgeable professional who can help restore their home when water damage occurs. At Len The Plumber, our plumbing experts have the skills and expertise necessary to resolve all of your basement flooding concerns with ease.
Don't let a basement flood devastate your home: Allow Len The Plumber to provide the basement flooding services you need to remove excess water in no time. Contact us to schedule service in Delaware, Maryland, Pennsylvania, Washington, D.C., or Virginia!
What to Do When Your Basement Floods
A flooded basement can quickly lead to more serious issues if left unresolved by a professional team. While it's critical to contact a professional plumber the moment you realize a flood has formed in your basement, it's equally important to take the necessary steps on your own to help mitigate damage. Taking the following steps can help you save money on needed repairs and replacement following a flood:
Remove the water: If you have access to one, use a wet vac to remove standing water from the area. For minor flooding, soaking up excess water with towels will suffice.
Dry the area: Use dehumidifiers and fans to circulate air and prevent against mold growth, keeping the dehumidifiers at least six inches from the wall for the best air movement.
Clean the floors: Disinfect the area once it's dry to prevent against mold growth using one cup of bleach to one gallon of water.
Once your plumbing professional arrives, they'll be able to assess the drains and plumbing fixtures in your basement to identify the source of the flood. Get the rapid basement flooding services you need by contacting Len The Plumber today.
Our Flooded Basement Services
At Len The Plumber our team of highly skilled plumbers offers the comprehensive services necessary for effectively removing a basement flood. Our basement flooding services include:
We understand that a basement flood can happen at any time, which is why our team is proud to offer emergency services throughout our service area. Get the fast, reliable services you need to identify and repair the root cause of your basement flooding issues by contacting us today!
Basement Flood FAQs
Will insurance cover the cost of basement flood services?
In general, homeowners' insurance policies cover the cost of basement flood services only if the flooding is caused by issues with your home's plumbing system. Rather than filing a claim with your provider and increasing your monthly premium, Len The Plumber offers plenty of
financing solutions
to help families afford the cost of their basement flooding services. Learn more about our available financing options by
contacting our team
today.
Is a flooded basement dangerous?
A damp or wet basement can present a serious health hazard to residents. When left untreated, damp areas of the home can quickly become consumed by mold, mildew, and fungus — all of which are known to contribute to serious respiratory issues. If a basement flood occurs in your home, it's best to
contact a professional team
immediately to address the issue.
Why does my basement keep flooding?
Basements are more prone to flooding simply because of their location in the home. However, some basements can experience more floods than others due to issues in the foundation floor, sewage backup, water line issues, and other plumbing-related problems. If your home frequently experiences basement flooding, don't hesitate to
contact Len The Plumber
to have our team quickly and efficiently resolve the problem.
Schedule Basement Flooding Services Today!
When basement flooding takes hold of your home, there's no better team to turn to than Len The Plumber. With readily available emergency services and a team of highly skilled plumbing experts, your basement flooding issues will be resolved in no time.
Contact us to schedule services in your home today!