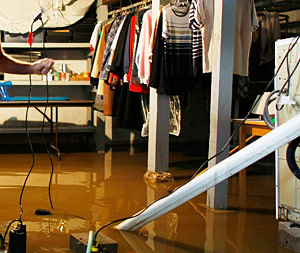 Is your basement flooded or prone to flooding? Even small amounts of water in an empty, unfinished basement can be a serious threat to your home and health, encouraging mold, reducing indoor air quality, and attracting pests.
When your Baltimore-area home suffers basement flooding, the team at Len The Plumber is ready to help with emergency service. Whether the problem stems from your plumbing, the result of damaged lines, or sump pump failure, we can assess the situation and implement a solution quickly.
To schedule emergency basement flooding service in the Baltimore area, call Len The Plumber today at 800-950-4619 or contact us online.
Steps To Take When Your Basement Floods
When your basement floods even a small amount, your highest priority should be to ensure there is no live electricity in the basement.
Do not go into the basement or touch anything until shutting off the circuit breaker connected to your basement because there is a high risk of electric shock.
Only when you are 100% sure the basement is safe can you attempt to remove valuables and identify the source of the flooding.
Your next step should be to call a plumber who can help resolve the cause of a flooded basement, regardless of whether the water is coming from your pipes or your yard.
Call Len The Plumber at (800) 950-4619(800) 950-4619 as soon as you can after discovering your flooded basement. We'll determine what caused the issue and ensure your Baltimore-area basement is dry again in no time.
Common Culprits and Solutions for Basement Flooding
The vast majority of basement flooding comes down to plumbing problems and will, in turn, be resolved by a skilled plumber. Common solutions for basement flooding include:
Sump Pump Installation & Repair
Your sump pump redirects water away from your basement to prevent flooding. Basements flood after intense storms because the water around your home becomes so saturated that the water pressure pushes water into your home. The pressure near your home is reduced by pumping that water away, and the water can't push in.
After a basement flood, we'll check to see if your sump pump is working as intended and repair or replace it if necessary. And if you don't have a sump pump, we can install one for you.
Water Line Replacement & Repair
Damage to your main water line from tree root infiltration, improper installation, or age can quickly lead to basement and yard flooding, as the water will likely end up at the lowest point of your home.
The Len The Plumber team will use the latest technology to identify the cause of the damage and implement an effective water line repair or replace your water line if needed.
Sewer Backup & Repair
When your sewer line backs up, it can cause basement flooding by leaking directly into the basement or by increasing hydrostatic pressure by leaking into your yard and overwhelming your sump pump. This issue can happen randomly or result from a lack of drain cleaning over time.
The Len The Plumber team offers sewer line repair and replacement services that address the root cause of the backup and provide the best options for a solution.
Main Line Clog Removal
A clog in your main line leads to problems with every plumbing fixture in your home and can affect your basement as well. If a clog leads to leaks in your yard, the water can easily make its way into your home or increase pressure, forcing other water into your home.
In addition to sewer line repair and replacement, our plumbers can expertly clear main line clogs by augering or drain cleaning, depending on the age and condition of your main line.
Whatever the source of your basement flooding, you can trust the team at Len The Plumber to help. Call or contact us online to schedule emergency services for your Baltimore-area home.
Choose Len The Plumber To Fix Basement Flooding in Baltimore
When your basement floods, it's a serious problem requiring a professional's help. Call a team you can trust to do the job with reliable solutions and technicians and an abundance of customer care.
Len The Plumber team members always maintain full professionalism, keep you filled in on everything you need to know, and clean up when we're done.
We also offer excellent financing options and no additional fee for emergency services.
Call us now at (800) 950-4619(800) 950-4619 or contact us online today to restore your basement and prevent future flooding!